Ape Business is a 2D adventure game written in Java.
Screenshots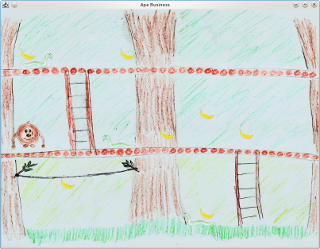 How to play
Press...
←↑→↓ to move
1 for small screen resolution
2 for big screen resolution
D for debug mode (toggles grid on / off)
M to toggle music on / off
N to toggle sounds on / off
News
2011-03-13 - Added animation for climbing stairs.
2011-03-10 - Ape dies when hit by a snake.
2011-02-20 - Added snakes.
Get it